As many of you know I have worked with Sheila for many years bringing to you the Mystery Quilt. When Sheila asked if I would like to be an affiliate for her latest quilting venture then it seemed like a perfect fit.

I hope to introduce you to more of Sheila's patterns and her new online community. Here's how you can get involved and see what is in store.
We have two exciting projects to talk to you today about: The Dolly Mixtures Block of the Month quilt pattern and Sheila's Quilt Party!
---
How gorgeous is this quilt? Sheila's original design features lots of Alison Glass fabrics which look just stunning, but as lots of the elements can be made up from relatively small pieces, I think this would look fantastic in a modern scrappy version.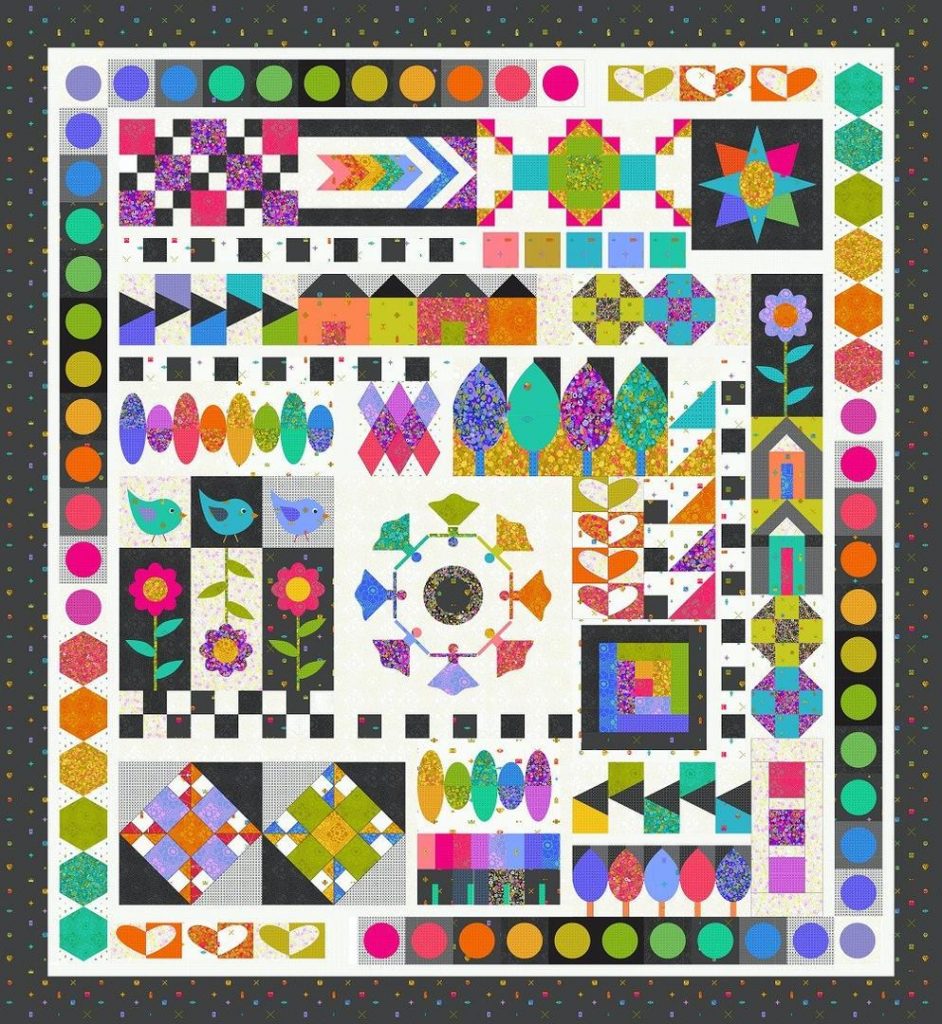 More on this to follow as you could receive this pattern as part of Sheila's other fantastic project!
Please read on…
Sheila launched her own online quilting community called Sheila's Quilt Party in 2020. She has been successfully teaching online and would now like to reach out to more quilters to grow the community.
I certainly know from this last year that online communities have helped keep me quilting and inspired me to try new things, just like my actual monthly guild meeting would have done, but the beauty is I can stay at home in my pyjamas! 
What is Sheila's Quilt Party?
It is an online platform which includes:
Library of patterns
On-demand classes
Hours of helpful videos 
Patterns tips 
Community of your fellow quilters. 
Direct access to ask Sheila questions
It is like having your very own tutor in a one to one setting, someone with years of expertise and experience to support you.
In addition to the online patterns and videos, Sheila also hosts a private facebook group for all members.
---
The Quilt Party can be accessed through multiple devices, I am currently using it on my laptop but I also have an app on my phone so that I can easily access all the videos too and have it sat right next to my machine.
The library of patterns is fantastic as it is not initially overwhelming as the patterns slowly drop into your feed over time. But even from day one you can have access to and see what is coming up and decide what you would like to be involved in.
---
Benefits of joining Sheila Quilt Party:
Sheila's Quilt Party Community
Bonus patterns

Dolly Mixtures patterns and tutorial videos

Hemisphere quilt patterns and recorded 'live' videos
Modern Triangle Sampler Course
Triangle Patchwork Design Course
Patchwork and Quilting Techniques Course
Trendsetters Quilt Course
Free Motion Basics course
Plus all new courses, patterns, bonuses that are added while you are a member
If you pay in full or upgrade from Dolly Mixtures (see below) you received 12 months for the price of 10.
---
Dolly Mixtures Block of the Month
If you are not sure if Quilt Party is for you right now, but you like the look of the Dolly Mixtures Block of the Month pattern then you can just sign up for that. You will still have the option after giving it a try to UPGRADE to the full Quilt Party access. 
Check out the details in the link to see what you would need to complete the 12 month Block of the Month (as I said before I think this would look amazing as a scrappy quilt!).
Fabric Requirements & Useful Tools
If you just sign up for the Dolly Mixtures Block of the Month
You will receive:
Patterns by email for all the blocks plus completing the quilt top
Access to the patterns online as they are released
Access to the video lessons online
Membership of the exclusive facebook group
[ Please make sure you subscribe to Sheila's email list to make sure you receive notifications. ]
The Dolly Mixtures Quilt works out at 79″ x 86″ and you will receive two blocks each month. One usually a hand applique and one machine pieced.
---
Sign up
Please note that by following the links from my page I will receive a small commission if you subsequently sign up. So I thank you for supporting me and for joining Sheila's community.
Please follow one of the links below to sign up to your preferred choice:
*Dolly Mixtures quilt must have been purchased.
If you have any questions about either the Quilt Party or Dolly Mixtures Block of the Month then please send me a message, I will be happy to answer any questions.