If you have never attended one of Modern Quilt Club's sewing retreats then let me give you a little introduction as to what you can expect from a weekend with us.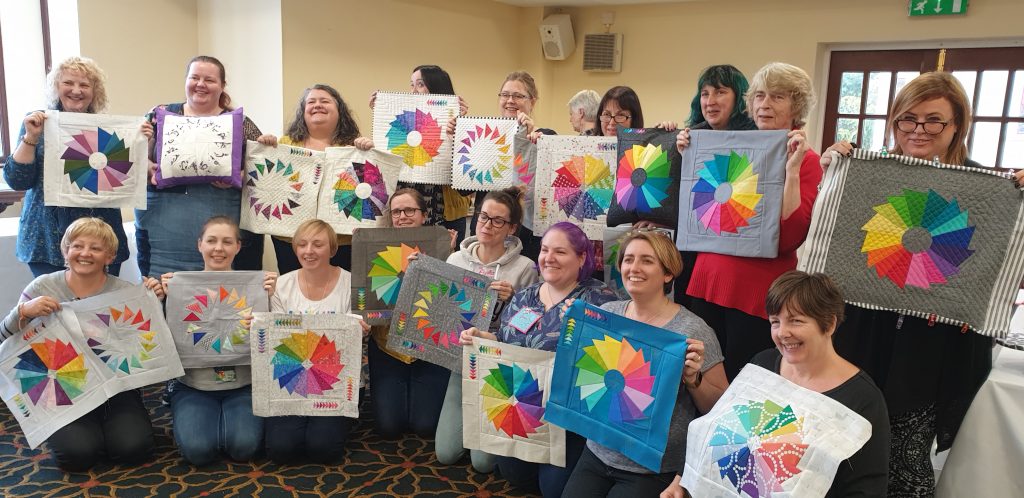 My retreats are very much a laid back affair, the ethos behind the whole weekend is that it is a chance to come along, sew, relax and have a lot of fun with like minded folk. My emphasis really being on relaxing and enjoying yourselves. This is a formula that has worked so well for over six years.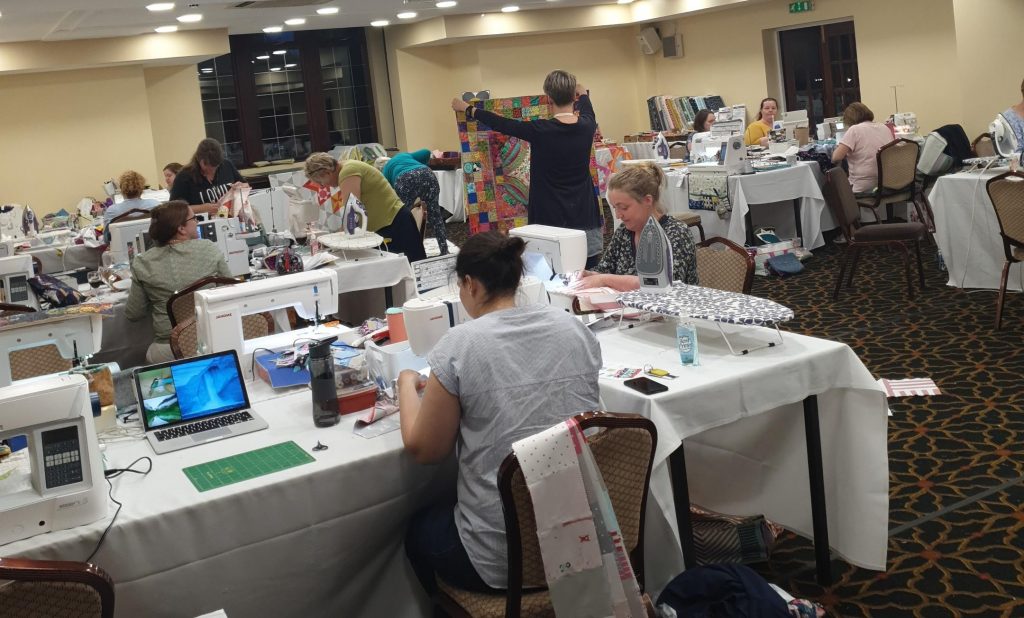 The idea that you bring along your current sewing projects and have the time and space to crack on with whatever you wish, no set schedule and list of multiple classes to attend.
So whether it is a pile of WIP (work in progress) quilt tops that have been staring at you from the corner of your sewing space (yes I am sure we all those).
Or maybe you would like to start a brand new project and have a pattern in mind that you will work on throughout the weekend. The choice is yours, as this is YOUR time to do what you like supported and encouraged by other quilters who are all intrigued to see what everyone else is working on.
Guests and Workshops
Although I do regularly have guests who may teach a sewing skill, technique or particular pattern I do not ever wish to put more onto your WIP pile that you brought with you. The emphasis on the weekend is to relieve you of any sewing stresses you may have and not add to the burden of unfinished projects.
The retreat is very rarely based on knowing a particular tutor is attending and booking on that basis, the guests we have are all added bonuses. The cherry on top of the cake which is always a lovely surprise and always very popular.
We like to keep any extra surprise sessions juicy enough to be interesting and for you to take something away from it, but not so overwhelming that you have hours of extra work rather than fun ahead of you.
Running Order
The plan for the weekend is that we run from noon on the Friday and run through to mid afternoon Sunday.
Your ticket will cover everything you could need (with the exception of drinks from the hotel bar) from arriving on Friday afternoon right through to final afternoon teas, late on Sunday.
We all get settled into our sewing room and usually start with a buffet lunch shortly after arrival, so if you have travelled some way there is food to get your afternoon fuelled. This is swiftly followed by afternoon teas and coffees and maybe a little slice of cake or homemade biscuits (nothing is little about the hotel food portions!).
We have breakfast and our evening meal hosted in the hotels restaurant area and a buffet lunch served in our own sewing space, where if the weather is kind we can spill out onto our own private balcony area.
Those that have been before will tell you that the hotel, it's staff and the food are all amazing. You are provided with everything you need from arriving to leaving, all the food and overnight accommodation is provided in the one cost.
You will find everything you need at the hotel is catered for so there is no need to leave once you arrive and settle in. You can always treat yourself to a little extra relaxation at the hotel spa which do a great upgrade deal for us attending the whole weekend.
The sewing room is available for us 24 hours, so whether you are an early bird or a night owl, then you can be sewing. I have know that the lights haven't been switched off before, as the last person going to bed is passing those first morning sewers ready to start the next day.
Extra bits and bobs
Under normal circumstances we have lots of extra benefits to being at retreat too, for instance Janome have been proud sponsors of my retreats since day one. So if anyone was unable to travel with their own machine I would have a trusty Janome on hand to loan.
Michael is our reliable and friendly sewing machine service man on hand usually most of the weekend to service and repair your machines. I have know people bring along their spare machines for him to service as he is so good and very reasonable too. He also can sharpen scissors and is able to service overlockers too, he is very much in high demand and annual services have become a staple for many retreat attendees.
I have never offered day tickets to the retreat as the atmosphere and friendship bonds very much come from spending time together. I am sure everyone would agree that this is one of the not so secrets of our success.
What to bring?
The biggest decision you need to make is what you will bring along as your sewing project(s)? Then you will be all set for a marathon three days of sewing.
There is another little page that is a summary of the Finer Details (go check it out) all nice and orderly for you to check off. Essentially you need your machine, your sewing projects and a change of underwear! If you sign up you will also receive my full packing check list which helps you make sure you don't forget any truly essential items from you sewing machine plug (yes that has happened before) through to your favourite threads.
Thank you for reading through to this point, well done if you got here. Next up is to make sure you are signed up to the Newsletter so you don't miss future ticket announcements.