**sign up window extended, see details below**
Let me introduce you to my latest subscription, with a twist! Yes this time rather than a quilt kit subscription I am giving you a thread collection. But not only that it is threads and A WHOLE LOT MORE!
Aurifil have put together this amazing 6 month long subscription which will include not only a collection of different threads, but all the knowledge, tuition and inspiration to be able to use those threads confidently. You will learn so much through this programme that I for one cannot wait for July to come around.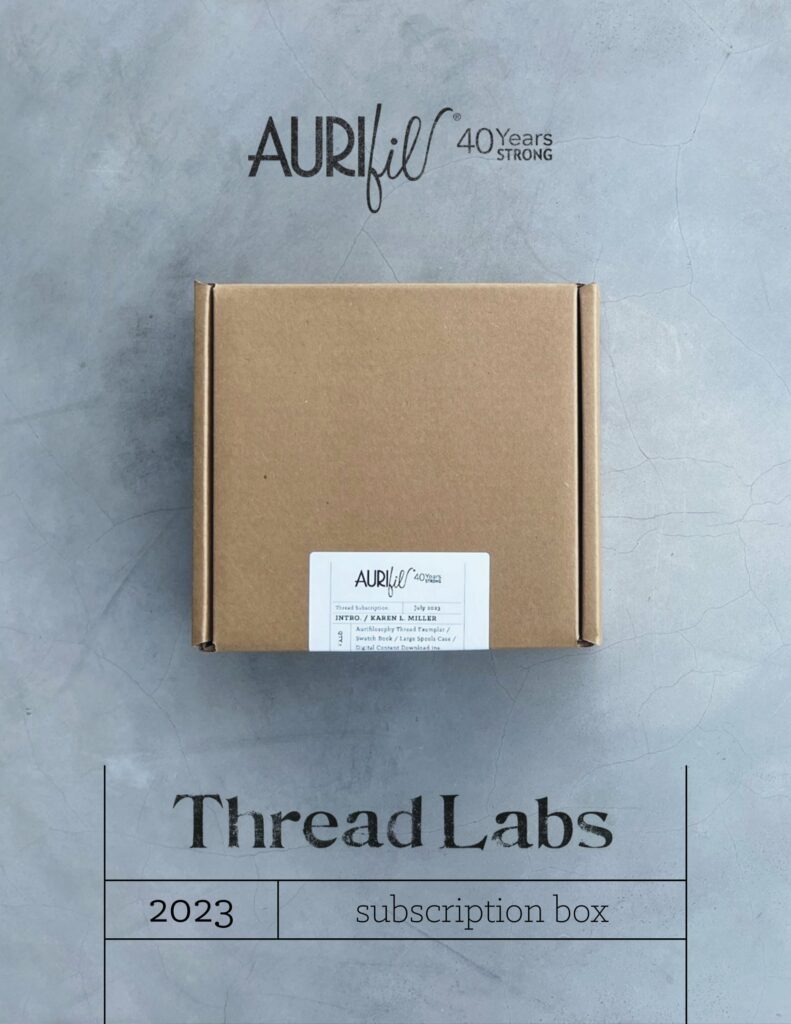 Aurifil has long been my favourite go to thread for everything and here they are allowing me the chance to share this love affair with you and have you hooked just the same as me. If you have ever been curious about different thread weights, or maybe like myself when I started out, not even realising there was a difference then Thread Labs is just for you.
Thread Labs is a six part subscription series that tells the story of Aurifil– from a shared celebration of our 40th anniversary, to our history and unique production process, to an in-depth education on our revered threads.
From July through December, subscribers will gain all the necessary tools to more confidently create with a variety of thread weights and techniques, finishing the year inspired, armed with new skills and a wealth of knowledge. Truly, what better way to honour a 40 year milestone than to invite you all in to the Aurifil family, box by box, project by project?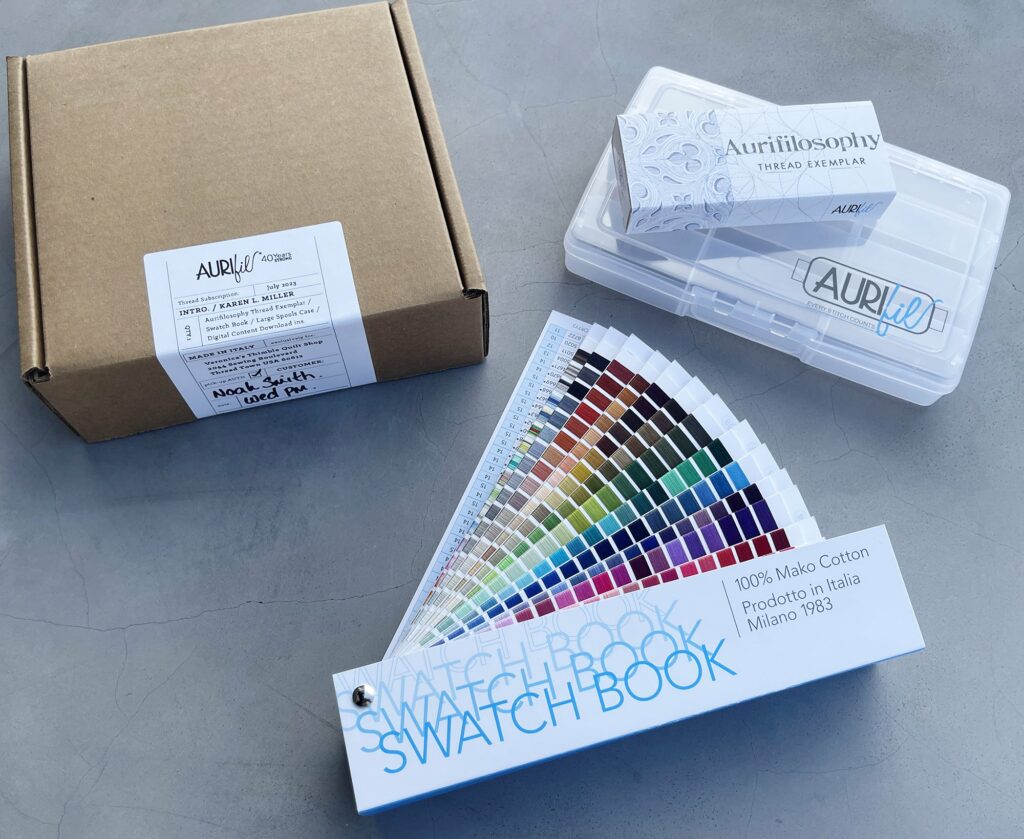 Thread Labs is a must-have for both the Aurifil enthusiast and novice. Each lab presents an exclusive project crafted by one of our revered Aurifilosophers & Designers, designed to educate and inspire via a featured thread weight.
The box itself includes a perfectly curated range of threads. A secure online portal for subscribers plays host to exclusive content including downloadable project PDFs, educator interviews, thread tutorials, partner offers, and more.
Lab 1.1 (shown above) provides early access to our newfangled swatch book, an exploratory Aurifilosophy session with Aurifil's Master Educator, Karen L. Miller, an Aurifil Storage Case, an Aurifilosophy Thread Exemplar, and an exclusive project utilizing all 7 included thread weights.
Each lab carries a new thread weight & technique partnership, allowing makers to explore their creativity while working on a new crafty skill.
SCHEDULE
Lab 1.1 | JULY / FUNDAMENTALS
Featured Educator: Karen L. Miller
Lab 1.2 | AUGUST / 50WT, FOUNDATION PAPER-PIECING
Featured Educator: Amy Friend
Lab 1.3 | SEPTEMBER / 40WT & 28Wt, Machine Appliqué
Featured Educators: Barbara Persing & Annie Smith
Lab 1.4 | OCTOBER / 80wt & 12wt, Needleturn Appliqué and Big Stitch quilting
Featured Educator: Jo Avery
Lab 1.5 | NOVEMBER / Forty3 & Mono, Machine Quilting
Featured Educator: Karen L. Miller
Lab 1.6 | DECEMBER / Cotton Floss, Cross Stitch and Embroidery
Featured Educators: Aneela Hoey & Susan Ache
Extra Benefits
The subscription cost is purely for the products within the box. All the additional educational videos, projects PDFs, interviews, thread tutorials and partner offers are complementary from Aurifil and exclusive only to subscribers.
Subscriptions have now closed but you can now pay in full and receive the full club up to the point you pay and the remainder of the club on the first week of the month up to December.
Payment & Shipping details *
The subscription is £72 a month for six months, It has an initial payment immediately. The subscription is then deferred until 1 August 2023. At which time there will be five further payments on the 1st of the month.
Subscription boxes will start shipping from July (exact date tbc).
The cost includes free UK shipping, and I am only sending within the UK on this product.
Signs up will close 11th May 2023 at noon on Friday 19th May (deadline has been extended) and there is limited availability.
*This is a 6 month subscription and by signing up you are committing to the full plan. No cancellations mid plan.